Settings for Chart Layout/Style/Orientation, Node Size, Chart Background (Image/Brush), Font & Brush for Title & Text.
Chart Style can be Normal/Shaded/Three Dimensional.

Chart Orientation can be Top-To-Bottom/Bottom-To-Top/Left-To-Right/Right-To-Left.

Chart Layout: LargeOrganization is recommended for large charts, FlexiExteneded for small/medium (single page) charts.

Node-Size is applicable only for LargeOrganization layout & ByNodeSize sizing option.

Set Resize-Mode, to specify how to arrange chart on expand/collapse of nodes. Automatic means shrink on collapse when chart exceeds bounds; None means a stable-looking chart. Always means shrink chart on every collapse of nodes.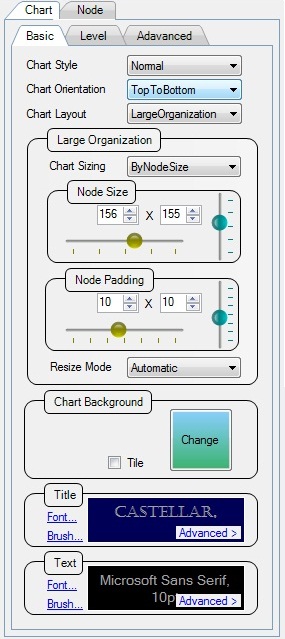 (Figure 1 : Chart Settings-Basic)