Used to drag and drop nodes to a different parent.

Selected node including all its children (sub-tree) will be moved.

Click Drag & Drop button to switch between Normal and Drag & Drop modes.

IMPORTANT

: When in Drag & Drop mode, other editing of the chart are disabled. Click on the icon again to switch back to normal mode.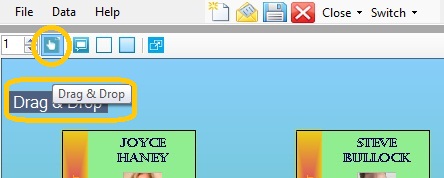 (Figure 1 : Drag & Drop in Chart)
Drag and drop the node (with mouse) to the NEW parent. Item will be added as the right-most child.
OR
Drop the node in between two nodes. Item will be placed in between the nodes.
Drop the node to it's OWN parent. Just dropped item will be the right-most child.
Move it beyond top bounds and release the mouse button.